Step right up and get your fresh ratings for the week.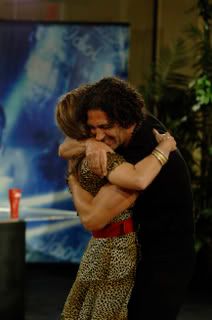 At the Miami audition, Paula Abdul was all over Ghaleb Emachah, but he got the boot tonight on "American Idol."
It's no surprise that "American Idol" leads the race, with "House" coming up on its heels. And while most critics didn't care for "The Grammys," and the ratings indeed had a slip from former years, the song fest was a welcome break from reruns and came in at the No. 4 slot.

Amy Winehouse performs via satellite from London at "The Grammy Awards."
Here's your rundown:
1 AMERICAN IDOL-TUESDAY 9.7
2 AMERICAN IDOL-WEDNESDAY 9.2
3 HOUSE 8.1
4 GRAMMY AWARDS 6.0
5 MOMENT OF TRUTH 5.8
6 EXTREME MAKEOVER:HOME ED. 5.5
7 LOST 5.3
8 SURVIVOR: MICRONESIA 4.9
9 DEAL OR NO DEAL-MON 4.6
10 60 MINUTES 4.6
11 20/20 SP EDITION-2/4 4.4
12 TWO AND A HALF MEN 4.3
13 CSI 4.1
14 WITHOUT A TRACE 3.6
15 CSI: NY 3.5
16 LAW AND ORDER 3.5
17 DANCE WAR:BRUNO/CARRIEANN 3.4
18 SMARTER THAN 5TH GRADER 3.3
19 CRIMINAL MINDS 3.3
20 NCIS 3.3
21 OLD CHRISTINE 3.3
22 AMER FUNN HOME VIDEOS 3.3
23 DEAL OR NO DEAL 2/7 3.3
24 AMERICAN GLADIATORS 3.2
25 ELI STONE 3.1
26 TERMINATOR: SRH CNR CHRON 3.1
27 CSI: MIAMI 3.1
28 APPRENTICE 7 3.0
29 DON'T FORGET THE LYRICS 3.0
30 BROTHERS & SISTERS 3.0
31 BUDWEISER SHOOT-OUT 3.0
32 HOUSE-FRI 9P 2.9
33 MOST OUTRAG MOM SP 2/10 2.8
34 WELCOME TO THE CAPTAIN 2.8
35 LAW AND ORDER:CRIM INTENT 2.7
36 DEAL OR NO DEAL-WED 2.7
37 TWO AND A HALF MEN-WED SP 2.7
38 1 VS 100 2.7
39 SUPERNANNY 2.6
HOW I MET YOUR MOTHER 2.6
41 LIPSTICK JUNGLE 2.6
42 BIGGEST LOSER 5 2.6
43 PRISON BREAK 2.6
44 LAS VEGAS 2.6
45 FAMILY GUY SP-2/10 9:30P 2.5
46 LAW AND ORDER-SAT 2.4
47 LAW & ORDER:SVU-SAT 2.4
48 SIMPSONS 2.4
49 NUMB3RS 2.4
48 HOURS MYSTERY 2.4
51 ABC SAT MOVIE OF THE WEEK 2.3
GHOST WHISPERER 2.3
53 FAMILY GUY 2.3
54 WIFE SWAP 2.3
55 LOST-THU 8PM 2.2
56 20/20-FRI 2.2
57 BIG BANG THEORY, THE – SP 2.2
58 KING OF THE HILL 2.1
59 BONES-FRI 8P 2.0
60 MOONLIGHT 1.9
61 CHARLIE BROWN VALENTINE 1.9
62 SUPER TUESDAY-ABC 9PM 1.9
63 FRIDAY NIGHT LIGHTS 1.8
64 CASHMERE MAFIA 1.8
NBC NEWS:SUPER TUES 2/5 1.8
66 48 HOURS MYSTERY 9PM 1.8
67 LAW & ORDER:CI-SAT 1.8
68 SUPER TUESDAY-ABC 10PM 1.7
69 SUPER TUESDAY-ABC 8PM 1.7
70 FRIDAY NIGHT SMACKDOWN 1.6
71 CRIMETIME SATURDAY 8PM 1.5
72 CAMPAIGN 08:SUPER TUESDAY 1.5
73 SMALLVILLE 1.4
74 GREY'S ANATOMY-FRI 8PM 1.4
75 DESPERATE HOUSEWIVES-FRI 1.3
76 AMERCN GLADTORS 8P 2/10 1.3
77 AMERCN GLADTORS 7P 2/10 1.3
78 ONE TREE HILL 1.0
79 SUPERNATURAL .9
80 GAME, THE .7
81 GIRLFRIENDS .7
82 REAPER-TUE .6
83 TOP MODEL EXPOSED .6
84 GOSSIP GIRL-MON .5
85 EV HATES CHRIS-SUN2 .4
ONE TREE HILL-WED .4
87 ALIENS IN AMERICA-SUN .4
88 GAME, THE-SUN .3
89 GIRLFRIENDS-SUN .3
90 EVERYBODY HATES CHRIS-SUN .3
91 CW NOW .2
Permalink Comments off