Am I the only one who feels a little bad for cutthroat bitch?
I mean, it's bad enough to be the last pick, but she wasn't even a choice at all in the end. We even sort of felt sorry for her as she looked wistfully out the window. Oh, well. Moving on now.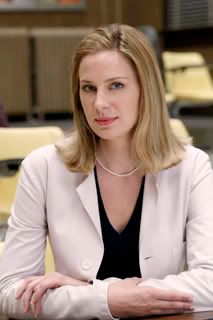 Poor CB, AKA Dr. Amber Volakis (Anne Dudek)
After conducting an uncoventional competition that started with 40 fellowship candidates, Dr. Gregory House (Hugh Laurie) has officially closed the case on who will join his diagnostic team in tonight's episode.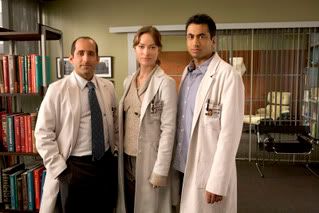 Dr. Chris Taub (Peter Jacobson), Thirteen (Olivia Wilde) and Dr. Lawrence Kutner (Kal Penn)
Fellowship candidates Chris Taub (Peter Jacobson), Lawrence Kutner (Kal Penn) and 13 (Olivia Wilde) came out the "winners" in the competition, while only CB was eliminated. Actually, Taub and Kutner (why don't THEY have nicknames?) were the ones chosen by House.
When House told Cuddy he had chosen Taub and Kutner after she suggested them, she told House she only said that because she thought House WOULDN'T take her suggestions. But hey, didn't we all know that House was up to something when he told 13 he would have chosen her if he could have taken three of them?
The trio joins Dr. Eric Foreman (Omar Epps) as part of House's Diagnostic Medicine team at Princeton-Plainsboro Hospital. Fellowship candidate Amber Volakis, otherwise known as "Cutthroat Bitch" (Anne Dudek), was fired at the end of the episode.
House's Diagnostic Medicine team:
Dr. Lawrence Kutner (Kal Penn) – His specialty is rehabilitative and sports medicine. This wacky dude is even further out than House when it comes to how to diagnose a patient _ and that's a whole new zip code.
Dr. Chris Taub (Peter Jacobson) – His specialty is plastic surgery. Probably the least interesting character right now IMHO (OK, so that's a lie. I'm not so humble and neither are my opinions). Anyway, just like House, we'd like to know why Shallow Guy left a successful practice just to be tortured by House.
13 (Olivia Wilde) – Her specialty is internal medicine. She cares about her patients, but she's no fuzzy bunny. What does make 13 tick?
Dr. Eric Foreman (Omar Epps) – Neurologist who quit at the end of last season because he didn't want to end up like Dr. House. But after he's fired from his next job and no other hospital will hire him because of his "House-like" reputation, Hospital Administrator Dr. Lisa Cuddy (Lisa Edelstein) placed him back on the diagnostic team to watch over the brilliant but unpredictable House.
Should be a snappy new second-half season, if the writer's strike ever ends.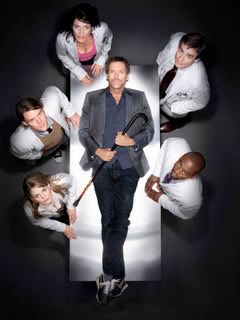 OK, I downloaded this pix just because it looked cool.Clockwise from center: Hugh Laurie, Robert Sean Leonard, Omar Epps, Jennifer Morrison, Jesse Spencer, Lisa Edelstein.