A quick email from creator Bryan Fuller confirmed what had been recently reported: We won't be getting any more new episodes of "Pushing Daisies" until this fall.

The fabulous Bryan Fuller, creator of "Pushing Daisies," "Wonderfalls" and "Dead Like Me."
Bryan says ABC didn't think it was wise to put the show up against "American Idol" and I agree. He also says that airing just a handful of episodes before the end of the season won't do the series any good. Again, we concur.
But I'm going to miss that show something awful. Still, it's good to know that with the writer's strike coming to a close, good shows will be able to get back into production for a nice fall return.
As always, we look to tireless reporter Michael Ausiello of TV Guide to give us the low-down on the status of the shows coming back.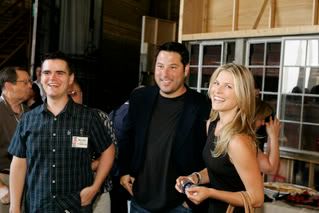 Michael Ausiello on a set visit to "Heroes" last July. I think I was standing behind the camera.
But as he says, refresh the page often. Things are changing rapidly.