James, you sly dog.
At first, I thought Todd was the guy to beat. But James, you've got some serious game. You've already snagged both immunity idols and when it came to tonight's showdown, you showed gambler Jean-Robert how to hold your cards.
I was sure you'd play the immunity idol, which would have been a win-win for the other tribe members. If you played the immunity idol, they would have gotten one idol out of play and the obnoxious J-R would have been out.
And I think I noticed a little fear factor in your face when at one point, you thought you might have overplayed your hand.
We ponder so many mysteries of the universe in this episode. Why do people still trust Todd? And why, oh, why is Courtney chosen for challenges. She's got neither strength nor brains.
In tonight's challenge, teams had to try and pour enough water into little boats to sink 'em. Of course, they put the lightest teammember in the boat so that it would take more water. Peih-Gee, Frosti, Erik, Courtney went up against Jean-Robert, James, Todd and Amanda.
Courtney not only failed to bail, she also kept her boat right next to the bucket brigade.
Todd bailed like a pro, and even Amanda stayed out of the way of buckets of water. But Frosti and Courtney ended up in the soup.
Courtney couldn't figure out how to stay away from the competition's bucket brigade as she quickly got sunk in her boat. And in round two, she could barely pick the bucket up to bail water into the competition's boat.
Then Courtney won the tailor-made challenge: Sitting quietly on a suspended barrel with no movement.
"I am lazy," she proudly proclaimed. Finally, a challenge you can win. All you have to do is sit there and do nothing.
With J-R gone, James has a big target on his back. How will he play this one out?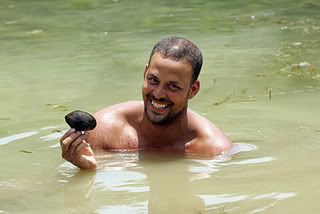 Goofy Jean-Robert is out
So who's next?