The creator of Rob Corddry's comedy series "The Winner" has decided to use his growing clout to right a long-standing wrong.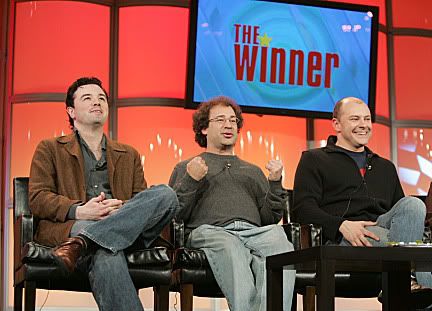 (Photo above: L-R: Executive Producer Seth MacFarlane, Executive Producer Ricky Blitt and Rob Corddry)
It's no secret in Hollywood that Dunaway has one of the worst reputations in town for being nasty human being and, let's just say it, a blight on mankind.
According to a critic friend of mine, she once shut down production on a miniseries because an extra looked at her in a way Dunaway felt was offensive.
So now we have Ricky Blitt, a Woody Allen type character who says he's not going to let her get away with it any more.
"I've never learned how to drive a car, so I use a driver to drive me
around, and every driver that I've used, I say who is the worst person you've ever met, and it's always Faye Dunaway," Blitt told not just me, but an entire room filled with TV critics gathered in Pasadena for the winter press tour. "And, also, by the way, not a good lay."
Again, Blitt has never met Dunaway, but for those of us who have had the dubious pleasure, it's a good bet that he could probably win a court case if Dunaway ever decided to sue him for slander.
"No. I've never met Faye Dunaway, but everybody that I've ever met, any driver that I've had, I said, "What's your worst celebrity story?" They always
say, "Faye Dunaway. She is just a monster,' " Blitt says in the most deadly of deadpan voices. "If I can do one thing as a writer and a creator it's bring down that old bitch."