After nearly an hour of waiting for the fab three to arrive on stage, critics gathered in Pasadena for the winter press tour finally got a chance to grill Simon Cowell, Paula Abdul and Randy Jackson about all their recent sins.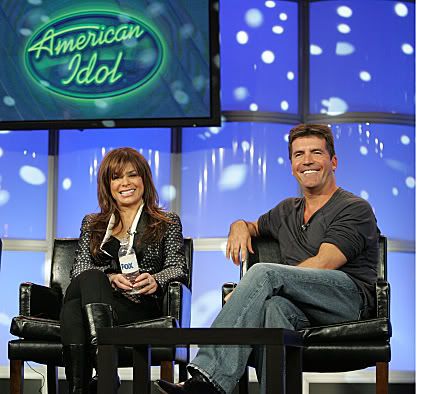 First up was Paula, who has been accused of acting like she was under the influence of more than just the sponsor's Coca-Colas. And on a satellite interview with the Seattle and Oakland's KTVU-Channel, she looked as if she'd just ingested more drugs than the Grateful Dead during the entire '60s.
"I had two different cities in my ear," Paula says, talking about the way the interviews are done. "I was answering questions to one and didn't know the other one was on as well. "
Then Simon took the big step, and told everyone it was his fault that Paula started babbling about moths and melons last year.
"The truth behind that was on the show, Paula said to me, `I genuinely don't know what I should say.' So I said – I did make it up – Use the Chinese proverb I use: The moth who finds the melon will eat the cornflake," Simon says rather unconvincingly.
Even Randy chimed in to say, "He said that to both of us."
And Ryan Seacrest added, "And I was kind of playing along."
"I publicly apologize," Simon says.
And that, my friends, is what people will do to protect a TV show that keeps breaking records.
And about the cola served on stage, Randy wants you all to know it's just Diet Coke.
Meanwhile, the judges, especially Simon, has been accused of being mean to auditioners who may be mentally challenged.
"I take your point, which is it's a singing competition and why should I call someone a bush baby," Simon says. "Truthfully, on auditions or anything you do like this, bad things do happen, and I think that's why the audience trusts us, that we will show the good things as well as the bad things."
Actually, most people watch those ghastly audition shows because it makes them feel oh-so-much-better about themselves knowing there's someone on a lower social and intellectual rung.
After the session, Simon told critics he did reget saying hurtful things, but that people show up for the competition knowing this is all part of it.
As for Jennifer Hudson, the former contestant that Simon helped push out the door, he says he'd love for her to come on the show this season.
"Look, she's an Oscar contender now. She should come back and gloat," Simon says.
So, how would Mr. Toxic like to be remembered on his tombstone.
"I think it will say, `Thank God he's gone,' " Simon quips.