Oh, why oh why weren't we paying better attention when Rebecca Romijn told us the identity of her character on "Ugly Betty"?
When we asked during a set visit what the name of her character was, she said "Alexis" with a twinkle in her eye. The blue blinded us to the fact that she was tipping us off about the fact that her character is Alex, the sex-changed, not really deceased brother of Daniel.
But no matter. We move on.
Rebecca's fiance Jerry O'Connell, who stars in the NBC series "Crossing Jordan," makes a guest appearance on "Ugly Betty." Jerry plays Joel, a man Alexis meets while slumming in a sports bar with Wilhelmina (Vanessa Williams).
Sounds like fun.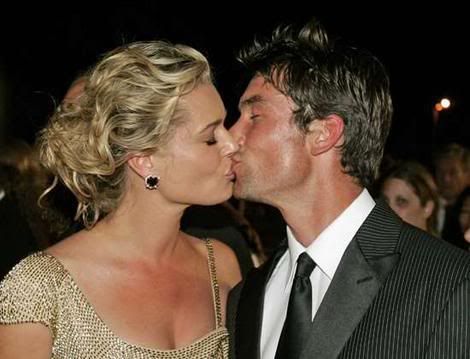 ( Rebecca Romijn, left, and Jerry O'Connell kiss as they leave following the screening of the film "X-Men: The Last Stand," at Cannes. Photo: AP Photo/Kirsty Wigglesworth)