Emily VanCamp, who charmed viewers as Amy Abbott on "Everwood," joins the cast of ABC's "Brothers & Sisters" later this season.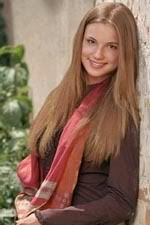 Emily plays Rebecca Harper, the daughter of the late William Walker (Tom Skerritt) and his mistress Holly Harper (Patricia Wettig). Rebecca has been a carefully guarded secret for the last two decades, but should pop into the spotlight shortly.
The series, starring Calista Flockhart, Rachel Griffiths and Sally Field, is about a wealthy California family rocked by the secrets kept by their late father/husband.
Greg Berlanti ("Dawson's Creek," "Everwood") was brought on board after the pilot was made and his influence has helped put this series on the right track.