Not to be rude, as our pal Simon would say, but Haley Scarnato has overstayed her "American Idol" visit by at least a few weeks. Her ouster tonight was a long time coming.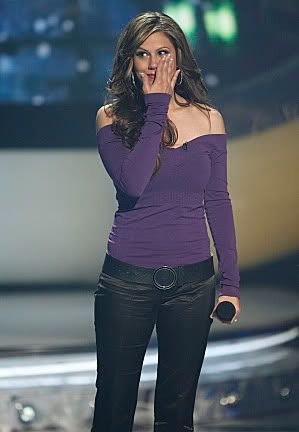 HALEY'S LAST SONG – THANK YOU VOTERS
Haley's performance last night was enough to make dogs howl and children cry. She cavorted on stage like she was trying to win a third-rate talent contest. And once again showing that if the title was for Best American Legs, she'd certainly be in the running.
Also in the bottom tier with Haley was Chris Richardson and Phil Stacey. We like Phil pretty well, but as the field narrows he's going to find himself squeezed out of the competition.
He's certainly the next one off the good ship Idol next week. After Phil, we're betting it will be Chris.
Which brings us to the final five.
And we're betting that group will be Sanjaya, Blake, Jordin, LaKisha and Melinda.
Let's hope the Sanjaya insanity stops there, and won't affect the best singers in the bunch. Although we have to admit we're a little interested in seeing Sanjaya go country next week with Martina McBride
While were in the business of ranking, how about those coaches each week? Jennifer Lopez was sweet and tried her best to inspire the "Idols." She obviously does watch the show and cares a lot about the singers.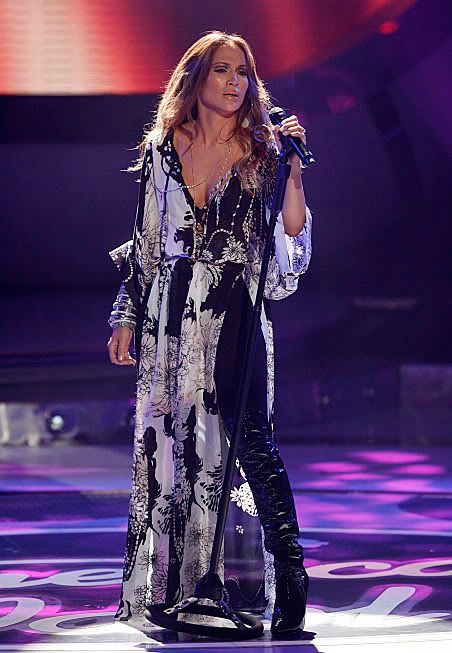 JENNIFER SHOWS HOW TO DO IT LATIN STYLE
But we still have to put Gwen Stefani up as one of the best coaches so far, followed closely by Lulu. Tony Bennett looked like he'd rather be anywhere else. Peter Noone was nice enough, but didn't offer much in the way of good advice. And dear diva Diana Ross simply seemed to be more wrapped up in herself than in genuinely helping the "Idols."