It's official: The Gilmore Girls are no more.
Which means our beloved "Veronica Mars" probably won't be around next season either, since "VM" consistantly falls below "GG" in the ratings.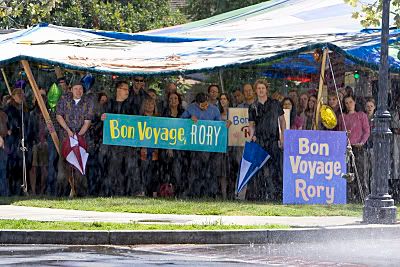 FAREWELL TO THE GIRLS IN THE SERIES FINALE
In a joint statement from The CW and Warner Bros. Television, which produces the show, they write:
"Announcing the final season of 'Gilmore Girls' is truly a sad moment for everyone at The CW and Warner Bros. Television. This series helped define a network and created a fantastic, storybook world featuring some of television's most memorable, lovable characters. We thank Amy Sherman-Palladino, Dan Palladino, Dave Rosenthal, the amazing cast led by Lauren Graham and Alexis Bledel, as well as the producers, writers and crew for giving us this delightful gem for the past seven years. We would also like to thank the critics and 'Gilmore' fans for their passionate support and promise to give this series the send-off it deserves."
The series finale airs at 8 p.m. May 15 on the CW. We're betting Luke and Lorelai get back together and Rory moves to San Francisco with Logan (have you noticed all the L people in this show?).
Of course, Rory will get a job at the Oakland Tribune...OK, she'll probably opt for that other Bay Area newspaper. But wouldn't it be sweet?
Actually, judging by the photo for an upcoming episode, she's going to work at CNN.

"BON VOYAGE" Pictured (L-R) Christiane Amanpour as herself, Lauren Graham as Lorelai and Alexis Bledel as Rory star of THE CW series GILMORE GIRLS. Photo Credit: Bruce Birmelin / The CW ©2007 The CW Network