James Logan High School grad Joey Gaytan looked like the kind of guy you might not want to meet in a dark alley.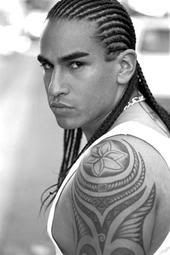 But after having a nice conversation with Joey last week, I knew it was all just an act. The Union City native says he's living the Hollywood dream.
"It's like winning the lottery, but I encourage anyone who has a dream of coming to Hollywood to do it," says Joey, who turned 29 on Sunday. "People would say I was too short, or too fat, or just not cool enough. But look at me now."
Joey, who got his first big break in 2005 when he won the reality series, "Wanted: Ted or Alive" hosted by rock legend Ted Nugent, says being cast on a top-rated show like "CSI: Miami" was exciting.
And he wants you to share in that excitement, so he posted a video on My Space which shows you what it was like, from his trailer to the stage.
I was going to embed the video, but since it contains language my company might not approve of, I decided to just give you the link instead.