Walnut Creek's Sheena got another rose tonight, and things look rosy indeed for our local girl.

SHEENA gets a rose from BRAD
In a touching moment with bachelor Brad Womack, he said that she was "straightforward with her emotions tonight, and I like to see that." He also mentioned how his twin brother, who tried the old switcheroo with the girls in an earlier episode, "opened his eyes" to what Sheena was all about.
Sheena was one of the bachelorettes who wasn't fooled by the twin.
The herd is getting thinned pretty quickly now. Brad pared down the group from nine to six women tonight.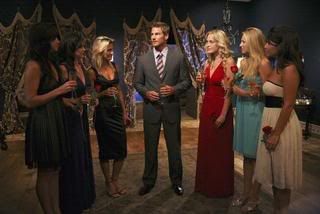 The final six are JENNI, KRISTY, BETTINA, BRAD WOMACK, HILLARY, SHEENA, DeANNA Photo by Karen Neal/ABC
Next week's previews look pretty provocative. We see Sheena looking fabulous as she walks down the stairs for her one-on-one date with Brad. As the narrator says it is the most romantic date ever, we see poor Sheena slip on the stairs.
But the big fall next week seems to be Hillary. The previews mention a "dramatic departure." Hopefully that means our Sheena is safe.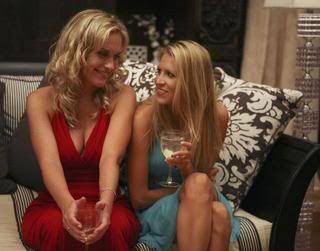 SHEENA may slip next week, but it's HILLARY who takes the big fall