If Elvis wasn't dead, this would have killed him.
That was the general sentiment of most critics about CBS' foray into musical drama. In between the catchy tunes, there's a family in crisis, a murder to solve and lots of bizarre characters in this brave venture into musical television centering on Ripley Holden (Lloyd Owen), who has made his fortune with convenience stores. Now he's tossing the dice and putting his bucks on a dream to own the biggest and best casino/hotel in Laughlin, Nev.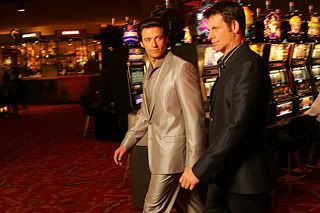 HUGH JACKMAN AND LLOYD OWEN
On SueTube this week, theater critic Chad Jones predicted a very short life span for this series.
For me, it was kind of TV to fold laundry by. You know, savor the spunky songs like "Viva Las Vegas," "Sympathy for the Devil," "One Way or Another" and "Let It Ride." I can glance up and see the musical numbers, hum along with the tunes and sort of pay attention to a not-too-taxing story line.
That wasn't good enough for most critics, however. But what did you think?