My pal, and fashion guru, Dino-Ray Ramos really got behind Ebony and thought she had a shot at winning it all.
Instead, she stood before Tyra and the world (well, anyone who was watching this week) and quit "America's Next Top Model" after it was revealed that she made the final cut.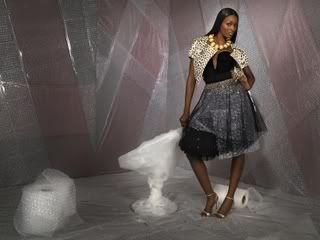 Ebony had better things to do than model. She totally check out on this week's photo shoot. Photo: Freddie Reshew
Ebony, a nursing student from Chicago, blew off moving forward during the ninth cycle of "America's Next Top Model." And Miss Tyra couldn't conceal the disgust she felt when looking at the petulant model coulda-been.
This entire season, Ebony has shown nothing but nasty attitude. She snarls whenever someone gives her constructive criticism and just can't help but been that person you'd like to avoid in any social situation. Dinner party? Please put her at the OTHER end of the table.
Yet her audition tape showed a bubbly, lively person who looked like she could go the distance. Oh, well. Looks can be deceiving.
The one I'm getting interested in is Asperger girl. Asperger's disorder is a mild form of autism. At first, it looked like stunt casting and Heather was only there to provide a little dramatic tension. But Heather's proven to be one of the most interesting girls in the competition.

Heather in her "green" photo shoot representing recyclable materials. Photo: Freddie Reshew
And while Ebony's departure allowed Ambreal to stay another week. Ambreal may be a nicer person, but she's not model material. So next week Ambreal seems like a slam-dunk to go home.

Ambreal, nice girl. No model. Photo: Freddie Reshew
Eight girls remain.
In addition to a $100,000 contract with cosmetics giant CoverGirl, this year's prize package for the winner of The CW's "America's Next Top Model" will include a contract with Elite Model Management and a cover and six-page fashion spread in Seventeen magazine.