Brad traveled to Walnut Creek and, in tonight's episode, met with Sheena Stewart's parents, Greg and Beverly.
We think Beverly was set up a bit by the producers, especially when it looked like Brad was rolling his eyes at her while she talked about him being a perfect fit for Sheena and something about the Big Dipper and the hot tub.
Beverly told bachelor Brad that "I see the chemistry" between them, but I've been thinking all along that Brad was just trying for twin brother Chad's sake.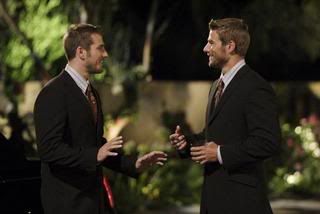 CHAD WOMACK posed as brother BRAD WOMACK, but Sheena wasn't fooled
When Chad met Sheena, he felt she was someone his brother should pay attention to. And Brad tried, even saying that when he met the Stewarts he hoped they could "develop a nice connection."
Not exactly the statement you make when you are about to meet the parents of a woman you are madly in love with.
Beverly and Greg were charming people, with Beverly remarking the two had been married for 24 years and were "lifers." We've all seen the promos with Beverly telling Brad that "I know she's THE ONE."
We think it might have been better if Sheena and Chad had started dating. At this point, I'm more than a little worried about Brad's continued infatuation with Bettina, who doesn't seem like she's all that into Brad.
And after the bout with the judgemental dad, mom and stepmom? Bettina's dad Robert pronouncing that Brad was a "disappointment." and Anne saying that she couldn't believe her stepdaughter had "hooked up with a guy who owns a bunch of bars."
"I feel like I'm being judged..I can only hear so much about how I don't look good on paper," Brad says.
Oh, really Brad? Then why did you give B a rose? Not your best move, my man.

DeANNA, SHEENA, BETTINA, JENNI