There's nothing subtle about tonight's episode, although any time we can ditch the Troublemint Twins is always a good thing.
Hiro learned you can't play God. After discovering his dad was killed, Hiro goes back in time to save him. But dad wisely tells him that he can't play god and to just accept what fate has in store. Hiro did, however, stop time long enough to see who murdered dad.

David Anders as Adam Monroe — NBC Photo: Adam Taylor
Heck, Hiro could have just listened to anyone tuned in to last week's episode. Show of hands of anyone who was surprised to learn it was Adam/Kensei who tossed Kaito over the edge of the building.
Parkman discovered that he not only can read minds, but like dear old dad, he can do a little Jedi mind control trick and make people do as he says. He first discovers this when he gets Molly to come back and finish her cereal, then progresses to his boss to get permission to talk to Momma P.
Once he gets to Momma P, he forces her to tell him the truth about the people in the picture. She tells him he's no better than his dad if he pries her secret out of her mind.
But Parkman doesn't heed the warning, and finds out that the final person in the picture is Victoria Pratt, who is played by Joanna Cassidy.
"She just wants to be left alone," pleads Momma P.
Not a chance.
And finally we have HRG shot through the glasses by no other than former good guy Mohinder Suresh. He saves Claire, and in the end, no one should be surprised that Bob used Claire's blood to bring HRG back to life.
Lack of surprises has just killed this season, although last week and this week's episodes have picked up the pace. But just when "Heroes" seems to at least be on the right path, it's about to go on hiatus. The final episode in this arc is slated for Dec. 3.
But does anyone out there care any more? Interest has been waning all year, and my pal Chad says he even took the last two episodes off his TiVo without watching them. What about you?
Next week:
PETER ATTEMPTS TO SAVE THE FUTURE FROM THE VIRUS — Peter (Milo Ventimiglia) travels to Primatech Paper in Texas with his new friend to destroy the virus, which will kill 93% of the world's population in the future — or so he believes. Niki (Ali Larter) returns to Micah (Noah Gray-Cabey) with bad news. To right a wrong, Monica (Dana Davis) puts her abilities to the test. Hiro (Masi Oka) goes after his father's killer. Meanwhile, Matt (Greg Grunberg) uses his mental abilities to track down the last person in the Company photo. Nathan (Adrian Pasdar) learns his brother is alive. Outside of New York, Maya (Dania Ramirez) must choose between Alejandro (Shalim Ortiz) and Sylar (Zachary Quinto).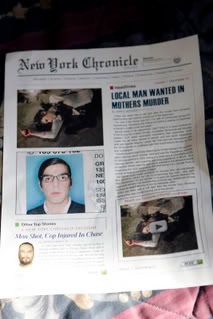 Guess someone noticed Sylar murdered his mom
And the Dec. 3 semi-season finale:
IT'S HERO VS. HERO AS THE SERIES' "VOLUME II: GENERATIONS" COMES TO AN EXPLOSIVE, BLOODY FINISH — Deep below Primatech Paper in Odessa, TX, Peter's (Milo Ventimiglia) reunion with Nathan (Adrian Pasdar) turns violent when the brothers, Matt (Greg Grunberg) and Hiro (Masi Oka) all clash thanks to Adam (David Anders) and his pursuit of the deadly Shanti Virus. After watching his heroic cousin captured by a street gang, Micah (Noah Gray-Cabey) turns to the one person who can help him save Monica (Dana Davis) — his mom (Ali Larter). Meanwhile, Maya (Dania Ramirez) tragically learns how much of a monster Sylar (Zachary Quinto) really is during his kidnapping of Molly (Adair Tishler) and Suresh (Sendhil Ramamurthy). Meanwhile, Elle (Kristen Bell) decides to play hero to get back into her father's (Stephen Tobolowsky) good graces.