Both "Jericho" and the first-ever winter "Big Brother" premiere on CBS on Feb. 12.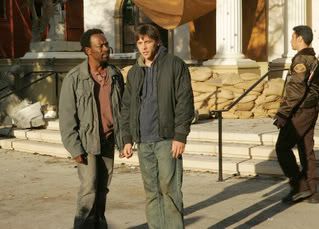 Jake (Skeet Ulrich, right) and Hawkins (Lennie James, left)
Game shows and news magazines plump up CBS' winter schedule, but at least one new series will be in the line-up announced today.
"The Captain," premiering at 8:30 p.m. Jan. 28, is a comedy about a wildly eclectic group of people whose lives are intertwined through the place they all call home, a fabled Hollywood apartment building, El Capitan, which they've dubbed "The Captain."
The comedy stars Fran Kranz ("The TV Set"), Chris Klein ("American Pie"), Jeffrey Tambor ("Arrested Development"), Raquel Welch ("The Three Musketeers"), comedian Al Madrigal, Valerie Azlynn ("Two and a Half Men") and Joanna Garcia ("Reba").
CBS has also completed production on episodes of the game show "Do You Trust Me." A scheduling announcement will be made at a later date.
CBS's Revised Programming Schedule Effective in January and February:
Wednesday, Jan. 2
8:00-9:00 PM POWER OF 10 (Premiere)
9:00-10:00 PM CRIMINAL MINDS
10:00-11:00 PM CSI: NY
Sunday, Jan. 13
9:00-11:00 PM COMANCHE MOON (Part One)
Tuesday, Jan. 15
9:00-11:00 PM COMANCHE MOON (Part Two)
Wednesday, Jan. 16
9:00-11:00 PM COMANCHE MOON (Part Three)
Tuesday, Jan. 22
10:00-11:00 PM 48 HOURS MYSTERY
Monday, Jan. 28
8:00-8:30 PM HOW I MET YOUR MOTHER
8:30-9:00 PM THE CAPTAIN (Series Premiere)
9:00-9:30 PM TWO AND A HALF MEN
9:30-10:00 PM THE NEW ADVENTURES OF OLD CHRISTINE (Season Premiere)
10:00-11:00 PM CSI: MIAMI
Tuesday, Jan. 29
10:00-11:00 PM 48 HOURS MYSTERY
Thursday, Feb. 7
8:00-9:00 PM SURVIVOR 16 (16th Edition Premiere)
9:00-10:00 PM CSI
10:00-11:00 PM WITHOUT A TRACE
Tuesday, Feb. 12
8:00-9:00 PM NCIS
9:00-10:00 PM BIG BROTHER 9 (Premiere)
10:00-11:00 PM JERICHO (Season Premiere)
Wednesday, Feb. 13
8:00-9:00 PM BIG BROTHER 9 (Wednesday Premiere)
9:00-10:00 PM CRIMINAL MINDS
10:00-11:00 PM CSI: NY
Sunday, Feb. 17
7:00-8:00 PM 60 MINUTES
8:00-9:00 PM BIG BROTHER 9 (Sunday Premiere)
9:00-10:00 PM COLD CASE
10:00-11:00 PM SHARK