Unless Peih-Gee continues to win immunity, she's out next week. And yes, I know the challenge was Swamp Donkeys, but it looked more like Swamp Monkeys to me.
Moving on. The one shot at upset came when Lunch Lady Denise thought about defecting from her Todd-Amanda-Courtney alliance to hook up with Erik and Peih-Gee. Saying that this vote was probably the biggest mistake she'll make in "Survivor," Lunch Lady sealed her fate by voting for Erik.

Erik was cute, but not a million bucks cute. Amanda stuck to the alliance and voted off her sugar baby. Photo: Jeffrey R. Staab/CBS
Chances are slight that she'll be able to win an immunity challenge, so expect next Sunday's finale to finish up with the trio of Todd-Amanda-Courtney in the final three. Of course, we've been wrong before. But I think that the trio knows that each one has an equal chance of winning against each other when they go up against the jury.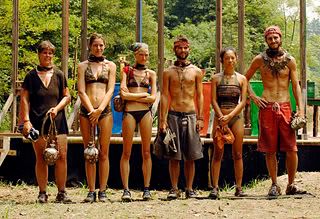 Denise Martin, Amanda Kimmel, Courtney Yates, Todd Herzog, Peih-Gee Law and Erik Huffman during the Immunity Challenge – "Swamp Donkeys"
Peih-Gee won immunity in the Swamp Donkeys challenge in which the Survivors had to go over an obstacle course that included slogging through a mud swamp. They raced down to one end, answered a question that would give them the correct key, then went back to open a box. There were three questions, three keys and if you missed the question and got the wrong key, you had to go back and get the right one.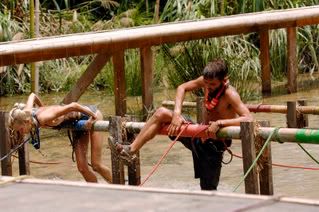 Todd and Court doing the course
Todd looked like he was the winner until he grabbed the wrong key in the last leg, giving Peih-Gee the win. It was a win that guaranteed Peih-Gee would make it into the top five.

Can Peih-Gee win enough immunities to make it into the final three?
The reward challenge this week was a game of blind man's bluff, with the six finalists getting a visit from their loved ones to help them compete. There wasn't much gleaned by these encounters, except that Amanda and her sister have some weird bird-call deal going on that bordered on mental torture for the other competitors. And that Courtney's dad seems to embody the stereotype of a stuffy Brit.
"He's British," explained Courtney after she commented that she thought he'd be wearing a suit, and certainly would never wear shorts.
The other Survivors thought Todd was pulling a Jonny Fairplay move when his sister arrived and told him that their younger sibling suffered a miscarriage in her teen pregnancy. Fairplay punked his fellow Survivors during a similar deal when his friend told him that his grandmother had died. The sympathy ploy worked for Fairplay, but made Todd the object of mistrust. Todd insists that it's true, not a game move. But you never know about this play-ah.
Courtney once again solidified my opinion that she's the least worthy of the group when she made a comment about how when Jonny said his grandmother died, "it was kind of funny." But if Todd's making up the miscarriage, then that's really sick.
I'd still like to see Courtney get the boot, but apparently there will be no early Santa present for me.