Here's what we figure WON'T happen this time around: Yau-Man won't be giving up a new truck on the promise that a guy named Dreamz won't vote him out.

Yau-Man Chan, a computer engineer from Martinez
The fabulous Yau Man from Martinez isn't the only Bay Area person representing on "Survivor: Micronesia – Fans vs. Favorites" when the 16th installment of the premieres at 8 p.m. Thursday, Feb. 7 on CBS. On the fan side, Mary Sartain of Emeryville will be battling out.

Mary Sartain, a real estate/financial company owner from Emeryville
And she doesn't have to deal with Jonny Fairplay on her team.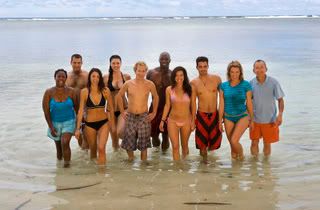 Cirie Fields, Jonathan Penner, Eliza Orlins, Amanda Kimmel, Jonny Fairplay, James Clement, Parvati Shallow, Ozzy and Yau-Man Chan are the 10 castaways from the Favorites tribe, set to compete in SURVIVOR: MICRONESIA – FANS VS. FAVORITES when the sixteenth installment of the Emmy Award-winning reality series premieres Thursday, Feb. 7 (8:00 – 9:00 PM ET/PT) on CBS
In a "Survivor" first, 10 ultra-fans of the series will take on 10 former castaways to compete. The two tribes will be marooned amid the Rock Islands of Palau, Micronesia. The skills of the former castaways will be put to the test while the tribe of first-time competitors will see if their enthusiasm and passion for the game is enough to distinguish them as worthy competitors.
It sure helped superfan Todd win the last round.

Mary Sartain, Michael "Mikey B" Bortone, Tracy Hughes-Wolf, Chet Welch, Natalie Bolton, Joel Anderson, Kathleen Sleckman, Jason Siska, Erik Reichenbach, and Alexis Jones are the 10 castaways from the Fav's tribe
Here are the competitors:
FAVORITES:
YAU-MAN CHAN
55
Martinez, Calif. (born in Hong Kong, raised in Borneo, Malaysia)
Computer Engineer
JAMES CLEMENT
30
Lafayette, La.
Grave Digger
AMI CUSACK
34 (35 on Jan. 25)
Denver
Nanny
JONNY FAIRPLAY
33
Danville, Va.
Professional Wrestler/Reality Star
CIRIE FIELDS
37
Norwalk, Conn. (originally from Jersey City, New Jersey)
O.R. Coordinating Nurse
AMANDA KIMMEL
23
Los Angeles (originally from Kalispell, Mont.)
Fashion Designer
OSCAR "OZZY" LUSTH
26
Venice, Calif. (originally from Mexico)
Freelance Photographer/Writer
ELIZA ORLINS
25
New York
Law School Student
JONATHAN PENNER
45
Los Angeles (originally from New York)
Writer/Producer
PARVATI SHALLOW
25
Los Angeles (originally from Vero Beach, Fla.)
Non-Profit Organizer
FANS:
JOEL ANDERSON
32
Avondale, Ariz.
Firefighter
NATALIE BOLTON
32
Los Angeles (originally from Houston)
Bartender/Personal Trainer
MICHAEL "MIKEY B" BORTONE
34
Los Angeles (originally from Boston)
Aspiring Writer/Actor
TRACY HUGHES-WOLF
43
Fredericksburg, Va.
Commercial and Residential Builder
ALEXIS JONES
24
Los Angeles (originally from Austin, Texas)
Motivational Speaker
ERIK REICHENBACH
22
Pinckney, Mich.
Art Student
MARY SARTAIN
29
Emeryville, Calif.
Real Estate/Financial Company Owner
JASON SISKA
22
Fox River Grove, Ill. (originally from St. John, U.S. Virgin Islands)
Gymnastics Coach/Student
KATHLEEN SLECKMAN
45
Wheaton, Ill. (originally from Manitowoc, Wisc.)
Golf Course Vendor
CHET WELCH
48
Ford City, Penn.
Pharmacy Customer Service/Pageant Coach