Natasha Bedingfield tossed out a compliment to Maroon 5's Adam Levine – the sexy songwriter/singer has been linked to quite a few pretty young things including Natasha – when she performed for a small group of TV writers at the Beverly Hilton tonight.
She peformed for about 20 minutes at a party by the music channel Fuse.
Right before launching into "Say It Again" from her newest album "Pocketful of Sunshine," she told the group that she wrote the song with Adam, a guy she says looks pretty good. The same could be said of lovely Natasha, who looked flawlessly beautiful. I mean, can anyone actually be born with teeth that perfect?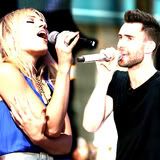 Natasha Bedingfield and Adam Levine
As if she wasn't blessed enough, she also knows how to belt out a tune. I confess I didn't catch the title of one of the songs she sung, but she says she wrote it after reading the book, "Men Are From Mars, Women Are From Venus."
She says she was furious after reading the book about how men and women simply don't think the same way, and we have to be forgiving of that.
"So I wrote this song because I didn't want to give men and excuse to be assholes," she says.
Yeah. She may be my new favorite singer.