Repeat after me: There is no shame in wearing a red T-shirt proclaiming, "Friends don't let friends drink friends."
Moonlight might have been staked, but those of us who like our boys with a little bite can take comfort in the fact that HBO is offering up a tasty new vampire treat on Sept. 7. "True Blood" is based on the popular Sookie Stackhouse novels about a perky waitress from a backwater Louisiana town that's lousy with leeches — and we aren't talking the swamp variety.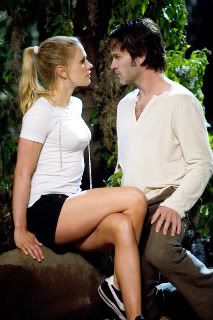 Ah, Sookie. There's plenty of sizzle going on between Sookie (Anna Paquin) and Vampire Bill (Stephen Moyer) on HBO's new series "True Blood."

Sookie can't believe it when brooding vampire Bill steps into her backwoods Louisiana diner and orders up a cup of Joe. OK, make that a cup of synthetic Joe blood.
She's been waiting for this all her life. And vamp fans know exactly how she feels. Fangers may be blood-suckers, but what a way to go. Most of our favorites are tortured souls looking to toss immortality for a sensual relationship with a mortal. Or those mighty queens of the damned. And you can always count on the strong mortals like the spunky Buffys and Sookies to get that vamp blood to boil. While I love curling up on the sofa for a nice wallow in Interview with the Vampire or Lost Boys, the old Dracula movies leave me cold. I like my vampire shows loaded with snark, hold the cheese.
Not since Buffy staked out a place in our hearts has there been a show about vampires we could really sink our teeth into like True Blood. But will viewers tune in? TV history has not been kind to the night dwellers. Check out our top-10 list of TV vamp-centric series:
10. Buffy the Vampire Slayer/Angel: All hail the creator, Joss Whedon. Both the original series and the Angel spin-off were smartly written and acted. Who can forget when Angel appeared out of the darkness and came into Buffy's life? Buffy made history with an episode shot almost entirely without dialogue, and also produced one of the best TV musical episodes ever. Buffy was all about girl power, and what just one girl could do. As it said on her tombstone, "She Saved the World. A Lot." But the excellent spin-off with David Boreanaz as private investigator Angel proved to be a higher ratings grabber.
9. Moonlight had sexy Aussie actor Alex O'Loughlin as the private investigator Mick, who was looking to exchange his immortality for normal life with a girl. Who cared that the writing sucked and O'Loughlin's acting was stiff as a corpse? Apparently the mainstream audience, which tuned out in droves last season.
8. Forever Knight: Totally hooked on this 1989 Canadian drama that showed up on American TV at odd hours. Geraint Wyn Davies starred as police investigator Nick Knight, who was trying to atone for his past vampire sins. Are you seeing a trend here?
7. Dark Shadows: Barnabas and pals popped up daily in this successful soap opera which ran on ABC from 1966 to 1971 and even spawned some lesser sequels. The 200-year-old Barnabas Collins (Jonathan Frid) busts out of his coffin to bring terror to the folks in Collinsport — and his presence pushed this soap into pop culture classic status.
6. Port Charles: What started in 1997 as a General Hospital spin-off quickly turned into a gothic drama with vampires. Never really successful, it still stuck around until 2003 and ended with a cliff-hanger. But that wasn't as strange as having two of the characters going back to GH as if they'd never lived around vampires and werewolves.
5. Blood Ties: Last year Lifetime aired and canceled this Canadian series based on the Blood Books by Tanya Huff. Here's the switch-up: Mortal Vicki Nelson's an ex-cop turned private investigator who's beginning to lose her eyesight. She teams up with a 480-year-old vampire/romance novelist/illegitimate son of Henry VIII to solve crimes.
4. Ultraviolet: This 1998 BBC miniseries occasionally pops up on Sci-Fi and is out on DVD. It centers on a cop who becomes a vampire and then starts working for a secret government agency. He's turned by his pal Jack, played by Stephen Moyer, who now plays vampire Bill on True Blood. See? Circle of life.
3. Kindred: The Embraced: This 1996 Fox show centered on a San Francisco cop investigating clans of vampires, including vamp mobster Julian. Julian was played by Mark Frankel, who died in a motorcycle accident not long after the first episode aired. The series was not renewed because of that tragedy, despite plans for this Aaron Spelling blood-sucking soap opera to continue for another year.
2. Blade: The Series: The 2006 series based on the popular film series about the half-vampire/half-human vamp vigilante burst out with great ratings for fledgling network Spike, but quickly slide down the scale. Maybe audiences thought rapper Kirk "Sticky Fingaz" Jones was no Wesley Snipes, as the spin-off never regained its initial audience.
1. Dracula: The Series: OK, this was a pretty pathetic short-lived syndicated series about a couple of kids, their uncle and his ward off chasing vamps. But it was between this and The Munsters, which featured vampires Grandpa and sweet Lily Munster, married to Frankenstein-like Herman. OK, I should have gone with The Munsters.