Oh, Simon Baker. You're back exactly where I want you.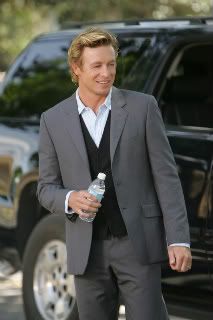 ">
"Red Hair and Silver Tape" — California Bureau of Investigation consultant Patrick Jane (Simon Baker) on THE MENTALIST, Tuesday, September 30 (9:00-10:00 PM, ET/PT) on the CBS Television Network. Photo: Monty Brinton/CBS. ©2008 CBS Broadcasting Inc.
I'll admit it. The last time I saw you, I was a little freaked out. You were playing the creepy Jeff in Smith, which was some kind of ode to bad guys that intrigued critics but never had a shot on broadcast TV. And talking about a shot, it was hard to look at you on the screen after you decided to gun down those surfers who tried to bully you for poaching on their beach turf.
They deserved a nasty smack down, not a sandy grave.
Sure, you played the slightly damaged attorney Nick in The Guardian, but underneath it all you were a good guy who made some mistakes – drug conviction – but you were doing community service helping kids. I could overlook the way you sort of ran roughshod over your young charges. Somewhere, there was a caring guy.
But now, Aussie surfer boy, you've landed smack in the middle of my comfort zone as the witty, slightly twisted crime solver Patrick Jane in The Mentalist at 9 p.m. Tuesday on CBS.
As Patrick Jane, you bring that sassy bravado to the forefront. Patrick admits that he was a charlatan in his former life as a celebrity psychic, hoodwinking the unsuspecting with his ultra powers of observation. Again, what woman could resist a man who actually remembers every minute detail from the shoes you were wearing last week to what she ordered on your first date?
Some might say you are playing a more sophisticated version of USA's Psych, about a slacker who uses his powers of observation to convince cops that he really is a psychic who can help solve crimes. But that's like comparing sirloin to filet mignon. Both are fine, but one is just a few notches up on the quality scale.

As the self-indulgent Patrick, you got yourself in a peck of trouble. You tweaked the wrong guy. And now you are paying the ultimate price just for passing yourself off as a person with paranormal abilities. To atone for your sins, or just to get revenge on the person who ruined your life, you solve crimes for the state as an independent contractor who gets results the civil servants don't.
Your character makes his supervisor Teresa Lisbon (Robin Tunney) nuts by blasting along on his own crime-solving freeway while ignoring all the rules of the road. While you make Lisbon look good by solving tough high-profile cases, Jane's narcissism and boundary-breaking can make things tense between the two. Sure, teammates Kimball Cho (Tim Kang), Wayne Rigsby (Owain Yeoman) and rookie Grace Van Pelt (Amanda Righetti) admire his charm and acumen, they just can't quite get past Jane's loose-cannon ways.
Put it all together, and it spells hit time for CBS, which rightfully placed your show in the correct time zone between NCIS and Without a Trace.
I'll be seeing you Simon. Every week. I promise.