On Monday, NBC decided to stick with most of its schedule. When it was ABC's turn at bat on Tuesday, the network announced it was bringing on a whopping seven new dramas, four new comedies and one new "alternative'' series this fall.
Although the buzz was bad on the "Grey's Anatomy'' episode sending Addison (Kate Walsh) down to sunny Southern California from Seattle Grace, ABC is still strong on the show. Now titled "Private Practice, the series will air on Wednesday, a day ABC has programmed with all new series.
ABC entertainment president Stephen McPherson acknowledged Tuesday that the episode wasn't up to snuff.
" `Practice' needs work,'' he said in a press conference. "It was a hybrid introduction that introduced all the characters and didn't spend enough time on story. What (`Grey's' creator) Shonda does brilliantly is the conflict between people and the intricacies that (weren't well served in the pilot).''
McPherson also talked about the dramas that didn't make it from last season, including "The Nine'' and "Six Degrees,'' compared to more escapism fare like ABC's "Ugly Betty,'' "Brothers & Sisters'' and NBC's "Heroes.''
"Look at the news every day and it is bad. Paris Hilton is going to jail,'' McPherson said, getting a chuckle out of the room. "People didn't show up for these shows. They didn't see them and reject them, they just didn't show up. `Nine' was very hard, very dense. It was compelling but demanding.''
In a move to less demanding shows, ABC is going to comedies like "Cavemen,'' based on those obnoxious guys from the Geico commercial.
Initially, ABC will roll out eight new shows in the fall, staggering the other series through the rest of the year.
The schedule offers a nice dose of Bay Area influence, from "Eli Stone'' and "The Women's Murder Club,'' both set in San Francisco, to Bay Area actors like Newark's Christopher Titus in "Big Shots'' and Santa Rosa's Peter Krause in "Dirty Sexy Money.''
The new dramas are: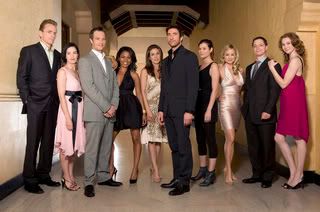 (ABC/KEVIN FOLEY) CHRISTOPHER TITUS, WENDY MONIZ, MICHAEL VARTAN, NIA LONG, PAIGE TURCO, DYLAN McDERMOTT, PEYTON LIST, JESSICA COLLINS, JOSHUA MALINA, AMY SLOAN
"Big Shots'' stars Titus, Michael Vartan , Dylan McDermott and Josh Malina as four friends at the top of their game professionally who have some trouble with the ladies in their lives.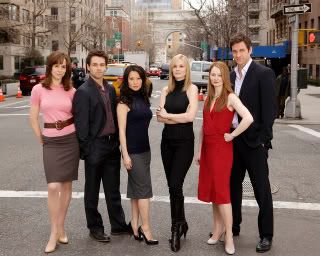 FRANCES O`CONNOR, JULIAN OVENDEN, LUCY LIU, BONNIE SOMERVILLE, MIRANDA OTTO, PETER HERMANN
"Cashmere Mafia'' stars Lucy Liu, Frances O'Connor, Miranda Otto and Bonnie Somerville as four gal pals fighting the glass ceiling in the Big City. The series comes from "Sex and the City'' producer Darren Star.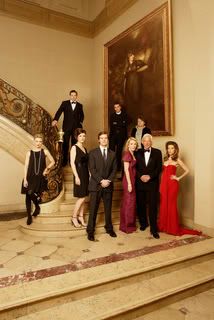 (ABC/BOB D`AMICO) FRONT ROW: SAMAIRE ARMSTRONG, ZOE McLELLAN, PETER KRAUSE, JILL CLAYBURGH, DONALD SUTHERLAND, NATALIE ZEA; BACK ROW: BILLY BALDWIN, GLENN FITZGERALD, SETH GABEL
"Dirty Sexy Money'' stars Krause as an idealistic lawyer who takes on the wealthy, and morally muddled, Darling family. Co-stars are Donald Sutherland, William Baldwin, Samaire Armstrong and Jill Clayburgh.

(ABC/BOB D`AMICO) NATASHA HENSTRIDGE, VICTOR GARBER, JAMES SAITO, JONNY LEE MILLER, LAURA BENANTI, SAM JAEGER, LORETTA DEVINE
"Eli Stone'' stars Jonny Lee Miller as a San Francisco lawyer who might also be a prophet. Victor Garber, Natasha Henstridge and Loretta Devine co-star in this series from the team who brought you "Brothers & Sisters.''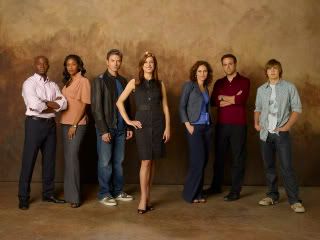 (ABC/BOB D`AMICO) TAYE DIGGS, MERRIN DUNGEY, TIM DALY, KATE WALSH, AMY BRENNEMAN, PAUL ADELSTEIN, CHRIS LOWELL
"Private Practice'' stars Walsh as she sheds McDreamy and McSteamy for more adult company in an established medical practice. Co-stars include Tim Daly, Taye Diggs, Paul Adelstein and Merrin Dungey.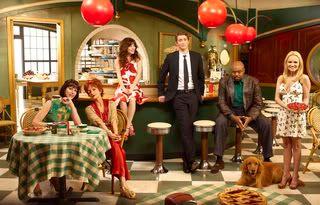 (ABC/BOB D`AMICO) ELLEN GREENE, SWOOSIE KURTZ, ANNA FRIEL, LEE PACE, CHI McBRIDE, KRISTIN CHENOWETH
"Pushing Daisies'' is a fantasy forensic series about a guy who helps solve murders through his ability to bring things, and people, back to life _ and then put them back into the grave. Lee pace stars with Anna Friel, Chi McBride, Swoosie Kurtz and Kristin Chenoweth in a series from Bryan Fuller ("Wonderfalls,'' "Heroes'').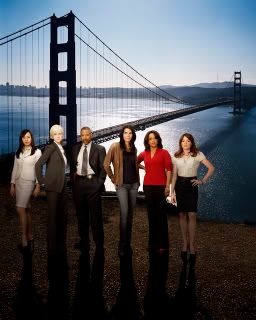 (ABC/BOB D`AMICO) ELIZABETH HO, LAURA HARRIS, TYREES ALLEN, ANGIE HARMON, PAULA NEWSOME, AUBREY DOLLAR
"Women's Murder Club'' is base don James Patterson's best-sellers about four women _ a detective, a district attorney, a medical examiner and a reporter _ working in San Francisco. Stars Angie Harmon.
The new comedies are:

ABC/CRAIG SJODIN) JERRY MINOR, JERRY O`CONNELL, T.J. MILLER, ALLISON MUNN, TIM PEPER, FRED GOSS, FAITH FORD
"Carpoolers'' starring Fred Gross, Faith Ford, Jerry O'Connell, Jerry Minor as four guys who commiserate about their lives, jobs and families while bonding during their commute.

.(ABC/CRAIG SJODIN) STEPHANIE LEMELIN, DASH MIHOK, NICK KROLL, BILL ENGLISH, KAITLIN DOUBLEDAY, JOHN HEARD
"Caveman'' is described as a unique buddy comedy offering a twist on stereotypes and race relations. Come on now, it's based on a Geico commercial.

(ABC/BOB D`AMICO) EARL BILLINGS, JONATHAN SADOWSKI, JUDY GREER, KRISTOFFER POLAHA, BROOKE BURNS
"Miss/Guided'' has Judy Greer returning to high school as a counselor and reliving her unpopular past. Comes from Ashton Kutcher and Jason Goldburg, the guys behind "Beauty and the Geek.''

(ABC/CRAIG SJODIN) MELISSA McCARTHY, CHRISTINA APPLEGATE, JENNIFER ESPOSITO, TIM RUSS, JEAN SMART, KEVIN DUNN
"Sam I Am'' has Christina Applegate starring as a woman who emerges from a coma without a memory and discovering she wasn't very nice. Now she wants to make amends.
The lone "alternative series'' is "Oprah's Big Give'' where needy contestants vie for a chance to win large amounts of cash.
The midseason series "October Road'' and "Notes from the Underbelly'' and the new series "Cashmere Mafia'' will premiere after "Dancing with the Stars'' and "The Bachelor'' conclude their fall seasons.
As previously reported, "Lost'' will not return until 2008 with 16 new episodes running almost uninterrupted.
In addition to shows already axed, the network canceled the drama "What About Brian,'' and comedies "George Lopez," "Help Me Help You" and "Knights of Prosperity." ABC is still debating whether to bring back "According to Jim.''
Monday:
8 p.m. "Dancing with the Stars"
9:30 p.m. "SAM I AM"
10 p.m. "The Bachelor"
Tuesday
8 p.m. "CAVEMAN"
8:30 p.m. "CARPOOLERS"
9 p.m. "Dancing with the Stars Results"
10 p.m. "Boston Legal"
Wednesday
8 p.m. "PUSHING DAISIES"
9 p.m. "PRIVATE PRACTICE"
10 p.m. "DIRTY SEXY MONEY"
Thursday
8 p.m. "Ugly Betty"
9 p.m. "Grey's Anatomy"
10 p.m. "BIG SHOTS"
Friday
8 p.m. "Mind in Trees"
9 p.m. "WOMEN'S MURDER CLUB"
10 p.m. "20/20"
Saturday
8 p.m. "Saturday Night College Football"
Sunday
7 p.m. "America's Funniest Home Videos"
8 p.m. "Extreme Makeover: Home Edition"
9 p.m. "Desperate Housewives"
10 p.m. "Brothers & Sisters"