"Studio 60" is gone. So is "Crossing Jordan."
(Which I guess solves that plane crash question left at the season finale.)
But NBC decided to keep the lights on "Friday Night Lights" and actually put in on Friday night.
And we'll be getting even more "Heroes" this coming season with no long absences.
There will be 24 new episodes of "Heroes," with limited repeats and six new stand-alone episodes titled "Heroes: Origins," featuring new heroes.
"Each will feature an entirely new cast. We saw certain characters last year, like the waitress in Texas, that people were really intrigued with," says NBC Entertainment President Kevin Reilly. "The stories will be like those, budgeted like a standard episode."
At the end of those six episodes, which will probably air next spring, viewers will be able to vote on which character they would like to see added to the cast.
Reilly also announced there will be 30 new episodes of "The Office," including five one-hour episodes and 25 new episodes of "My Name is Earl."
"Scrubs" will also be returning to the network for a seventh season, and Jerry Seinfeld comes back to NBC.
Seinfeld has produced "minisodes" spinning off of his "Bee Movie." The times have not yet been announced.
The best news, however, is that NBC didn't go into typical bottom-feeder network mode and begin juggling the schedule and adding far too many new programs.
Only four new dramas and one new reality program were announced on Monday for fall, with one drama and a comedy announced for midseason.
No surprise, with the popularity of "Heroes," that three of the new dramas – "Bionic Woman," "Journeyman" and "Chuck" – have a sci-fi spin.

BIONIC WOMAN:
Chris Bowers as Will, Michelle Ryan as Jamie Sommers, Miguel Ferrer as Jonas, Will Yun Lee as Jae, Molly Price as Ruth — NBC Photo: Alan Zenuk
"Bionic Woman" stars Michelle Ryan ("EastEnders") as Jaime Summers, who is technologically enhanced after a near-fatal car accident. Her co-stars include Miguel Ferrer, Mae Whitman, Molly Price, and former Bay Area resident Will Yun Lee. The show is produced by such sci fi veterans as David Eick
("Battlestar Gallactica"), Glen Morgan ("The X-Files") and Laeta
Kalogridis ("Birds of Prey").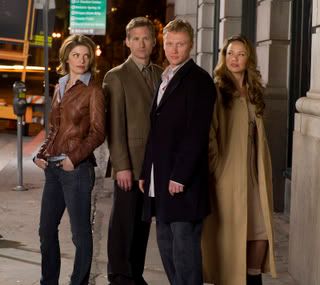 JOURNEYMAN
Gretchen Egolf as Katie Vasser, Reed Diamond as Jack Vasser, Kevin McKidd as Dan Vasser, Moon Bloodgood as Livia Beale — NBC Photo: Mitchell Haaseth
"Journeyman" is a romantic mystery starring Kevin McKidd of "Rome" as a San Francisco journalist who travels through time and changes people's lives. We're thinking that he travels back to a time when people read more newspapers.

CHUCK
Yvonne Strzechowski as Sarah, Zachary Levi as Chuck, Adam Baldwin as John Casey — NBC Photo: Chris Haston
"Chuck" comes from former "The O.C." team of Josh Schwartz and McG, starring Zachary Levi ("Less Than Perfect") as a computer geek who becomes a secret agent after vital data is dowloaded into his brain.
Also making the schedule are "Life" and, after football, "Lipstick
Jungle."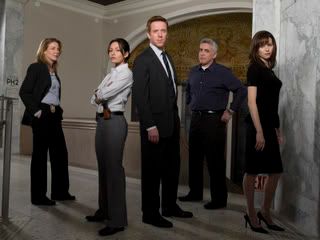 LIFE
Robin Weigert as Lt. Karen Davis, Sarah Shahi as Dani Reese, Damian Lewis as Charlie Crews, Adam Arkin as Ted Early, Melissa Sagemiller as Constance Griffiths — NBC Photo: Mitchell Haaseth
"Life" stars Damian Lewis ("Band of Brothers") as a detective who was wrongly accused of a crime, served some time and is now back on the force. We're excited to report that phenomenal actress Robin Weigert ("Deadwood") co-stars.
Both "Life" and "Bionic Woman" will repeat on USA and Sci Fi,
respectively.

LIPSTICK JUNGLE
Lindsay Price as Victory, Brooke Shields as Wendy, Kim Raver as Nico — NBC Photo: Mitchell Haaset
"Lipstick Jungle" comes from the novel by Candace Bushnell ("Sex and the City") about three high powered friends in the New York fashion business. Kim Raver, Brooke Shields and Lindsay Price co-star.
The lone new reality show on the schedule is "The Singing Bee," which challenges contestants to accurately sing the lyrics to popular songs.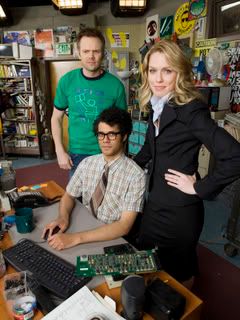 THE IT CROWD
Joel McHale as Roy, Richard Ayoade as Moss, Jessica St. Clair as Jen — NBC Photo: Mitchell Haaseth
Also on the horizon, but not on the schedule, is the sitcom "The IT Crowd," about quirky techies, based on the British comedy and the reality show "World Moves," from Randy Jackson ("American Idol"), centering on dance teams from around the world.
Despite fears that "Law & Order" might not return, it will be back for an 18th season, but potential presidential candidate Fred Thompson will be leaving the series.
Also returning is "Law & Order: Special Victims Unit." "Law & Order: Criminal Intent" will be airing on the network's cable sibling USA, with an option for the episodes to air on NBC later.
NBC PRIMETIME SCHEDULE FOR FALL 2007-08
New programs in CAPS (with the exception of "ER")
MONDAY
8-9 p.m. "Deal or No Deal"
9-10 p.m. "Heroes"
10-11 p.m. "JOURNEYMAN"
TUESDAY
8-9 p.m. "The Biggest Loser"
9-10 p.m. "CHUCK"
10-11 p.m. "Law & Order: Special Victims Unit"
WEDNESDAY
8-9 p.m. "Deal or No Deal"
9-10 p.m. "BIONIC WOMAN"
10-11 p.m. "LIFE"
THURSDAY
8-8:30 p.m. "My Name Is Earl"
8:30-9 p.m. "30 Rock"
9-9:30 p.m. "The Office"
9:30-10 p.m. "Scrubs"
10-11 p.m. "ER"
FRIDAY
8-9 p.m. "1 vs 100″/"THE SINGING BEE"
9-10 p.m. "Las Vegas"
10-11 p.m. "Friday Night Lights"
SATURDAY
8-9 p.m. "Dateline NBC"
9-11 p.m. Drama Series Encores
SUNDAY (Fall 2007)
"Football Night in America"
"NBC Sunday Night Football"
SUNDAY (January 2008)
7-8 p.m. "Dateline NBC"
8-9 p.m. "Law & Order"
9-10 p.m. "Medium"
10-11 p.m. "LIPSTICK JUNGLE"