CBS taking chances?
Who would have thought it of the conservative network, home of the police procedurals and slightly naughty sitcoms.
The network will bring back 17 current programs, but the sitcom "The Class" and the once-promising "Jericho" won't be among them. CBS brings just one comedy, one reality show and three dramas this fall, leaving most of the schedule intact.
Earlier this year, CBS entertainment president Nina Tassler tipped off a few reporters about her plans to shake things up with a musical drama, a wife-swapping drama and a Latino sudser.
"We approached our development this year with a specific goal in mind _ to be daring and different," Tassler says when announcing the new fall series on Wednesday. "The fall and midseason series we have selected offer creativity and variety with great potential to excite and surprise television audiences."
Well, it certainly surprised us, even though Tassler had already told us about "Viva Laughlin," we never thought the CBS suits would buy it.
We were wrong.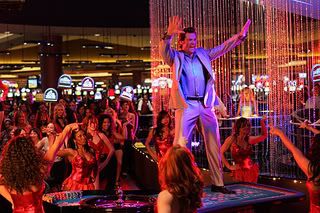 VIVA LAUGHLIN
Executive produced by Tony and Emmy Award winner Hugh Jackman (pictured, guest staring as Nicky Fontana).
Photo: Robert Voets/CBS
Based on the British series "Viva Blackpool," the series is produced and co-stars Hugh Jackman. In addition to high-wattage star power, the series also marks the first time since Steven Bochco's ill-fated "Cop Rock" that a musical drama series has made it to the air.
Ripley Holden's sole ambition is to run a casino in Laughlin, but he gets embroiled in a murder investigation after his business partner's body is found at Ripley's club. Ripley (Lloyd Owen) also deals with an attention-starvedwife (Madchen Amick) and teen daughter and son. The characters break out in contemporary songs to punctuate the drama and the comedy.

MOONLIGHT
Alex O'Loughlin as Mick St. John. CBS 2007 Upfront Photo: Robert Voets
Tapping into the "Angel" market, "Moonlight" centers on Mick St. John (Alex O'Loughlin) as a vampire who uses his powers to help people through his private investigation firm.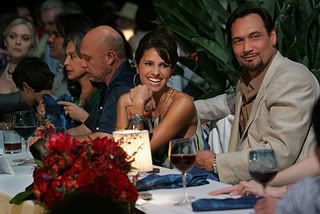 CANE
Pictured right to left: Jimmy Smits, Paola Turbay, Hector Elizondo, and Rita Moreno. 2007 Upfront Photo: Robert Voets/CBS
"Cane" stars Jimmy Smits, Hector Elizondo and Nestor Carbonell (Richard on "Lost") as the power players in this steamy drama about a large Cuban-American family running a successful rum and sugar business in South Florida.
Coming on in midseason is "Swingtown" from the director of the Showtime series "Big Love" and HBO's "Rome." The series takes viewers back to 1970s suburbia where the sexual revolution is being played out with open marriages and women's lib. When a couple (Molly Parker and Jack Davenport) moves into an affluent Chicago suburb in search of barbecues and neighborhood get-togethers, they have no idea what is really happening. Grant Show ("Melrose Place" and "Dirt") and Lana Parrilla play the swinging couple who share more than just recipes with their neighbors. Miriam Shor and Josh Hopkins play the couple's former neighbors and friends who are appalled and intrigued by the neighborhood.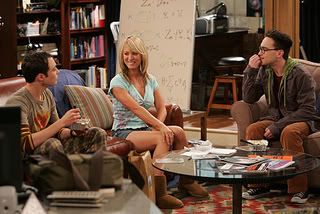 THE BIG BANG THEORY
Brainy best friends Leonard (Johnny Galecki, right) and Sheldon (Jim Parsons, left) meet their new neighbor, Penny (Kaley Cuoco, center) 2007 Upfront Photo: Robert Voets/CBS
The lone comedy on the schedule, "The Big Bang Theory," comes from "Two and a Half Men" producer Chuck Lorre. The show centers on a group of geeks being navigated through the crazy world of women with the help of their sexy new neighbor Penny (Kaley Cuoco).

KID NATION
Photo: Monty Brinton/ CBS
CBS, which will be keeping "Survivor" and at least one cycle of "The CBS, which will be keeping "Survivor" and at least one cycle of "The Amazing Race" this season, branches out with the reality series "Kid Nation." The series drops 40 kids into a New Mexico ghost town where they will have 40 days to build a working town. The children, aged 8 to 15, will also create a new government. Sounds a little PBS to us.
While not on the fall schedule, "The New Adventures of Old Christine" has been picked up as a midseason replacement series. We would have put "Christine" on this fall rather than sticking with the lukewarm "Rules of Engagement" for the Monday night comedy block. But, again, we didn't get that phone call from CBS asking our opinion.
Here's the CBS fall lineup:
Monday
8 p.m. "How I Met Your Mother"
8:30 p.m. "THE BIG BANG THEORY"
9 p.m. "Two and a Half Men"
9:30 p.m. "Rules of Engagement"
10 p.m. "CSI:Miami"
Tuesday
8 p.m. "NCIS"
9 p.m. "The Unit"
10 p.m. "Cane"
Wednesday
8 p.m. "Kid Nation"
9 p.m. "Criminal Minds"
10 p.m. "CSI: New York"
Thursday
8 p.m. "Survivor: China"
9 p.m. "CSI: Crime Scene Investigation"
10 p.m. "Without a Trace"
Friday
8 p.m. "Ghost Whisperer"
9 p.m. "MOONLIGHT"
10 p.m. "Numb3rs"
Saturday
8 p.m. "Crimetime Saturday"
9 p.m. "Crimetime Saturday"
10 p.m. "48 Hours: Mystery"
Sunday
7 p.m. "60 Minutes"
8 p.m. "VIVA LAUGHLIN"
9 p.m. "Cold Case"
10 p.m. "Shark"