Guess what? Claire got a car. A Rogue. From Nissan. That didn't take anyone out of the moment, now did it?
Still, it was a decent episode even though anyone who had been to YouTube had already seen about the first quarter of it. And yes, I admit to contributing to that let-down by posting those trailers. Still, it took a while for anything to feel fresh tonight.
Claire and H.R.G. are feeling a little fenced in California, where they are supposed to be keeping a low profile. Then perhaps Claire should NOT have tried to set fire to her hand during science class when new found pal West was watching.
West, we soon discover, has a little something extra like Claire. We also discover that managers of Big Box stores shouldn't mess with H.R.G., especially during his coffee break.
And Nathan and Peter are back, although looking pretty darn shabby. Nathan, we're assuming, lost the race. He's now got a scruffy beard when he isn't looking at his ground-beef face in the mirror. Has he healed a little, or is it an optical illusion?

NATHAN LOOKS LESS DAPPER THIS YEAR
And Peter? He's trussed up in a cargo box in Ireland. With amnesia. And getting grilled by people with the worst Irish accent I've ever heard.

MILO VENTIMIGLIA AS PETER, LOOKING A LITTLE LIKE A VAMPIRE
But by far the most interesting parts had Hiro catching up with his personal hero Takezo Kensei during a 1671 Shogun showdown. Turns out, Takezo's more Han Solo than Luke Skywalker. Hiro is disappointed, but we're more interested than ever in this guy.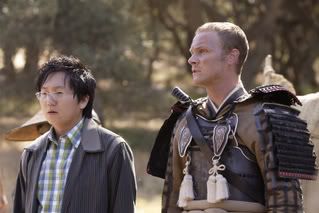 MASI OKA AS HIRO NAKAMURE, DAVID ANDERS AS KENSEI – NBC Photo: Paul Drinkwater
So what did you think of the episode? Up to expectations or disappointing?