All you need is a computer and a fast connection to get an early viewing of CW's series "Aliens in America" and "Life is Wild."
The full episodes of the series air free and without commercial interruption on Yahoo.com before their broadcast air dates.
"Aliens," about a misfit high schooler and the Muslim exchange student the family takes in, will begins streaming on Yahoo! today. It premieres Oct. 1 on the CW.

Dan Byrd as Justin Tolchuck, Adhir Kalyan as Raja Musharaff Photo Credit: Kharen Hill/The CW (C)2007
"Life Is Wild," a family drama about a New York veterinarian and his blended family moving to South Africa airs Oct. 7 on The CW, but will be available at Yahoo! starting Saturday.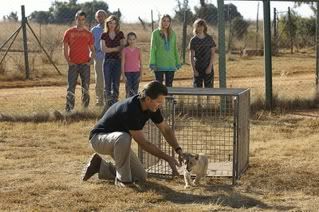 (L-R) D.W. Moffett as Danny Clarke, K'Sun Ray as Chase Clarke, Leah Pipes as Katie Clarke, Mary Mouser as Mia Weller, Stephanie Niznick as Jo Clarke, David Butler as Art and Andrew St. John as Jesse Weller stars in LIFE IS WILD on THE CW. Photo: David Bloomer/The CW ©2007