Get ready to either be thrilled, or totally ticked, by this week's episode of "CSI: NY."
Detective Mac Taylor (Gary Sinise) enters the computer-based virtual world of "Second Life," where the team tracks down a killer in both the real and cyber world. For those who haven't experienced this, Second Life provides a gateway into fantasy lives on the computer where alter-egos known as an avatars interact.
Your virtual counterpart is generally much better looking than your reality.
In the course of the episode, Mac discovers a woman has been murdered and the suspect probably has something to do with her Second Life. So Mac gets schooled before crashing into cyberland to track down the killer. The narrative device gives viewers unfamiliar with this world a primer on how it all works.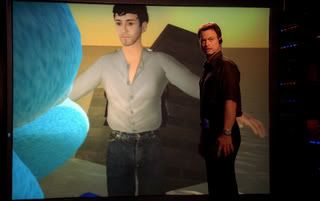 ">
GARY SINISE GOES CYBER
Down the rabbit hole he goes, and drags the viewers with him. But if you are expecting a pay-off at the end of the episode, you'll be disappointed. The show ends with a cliff-hanger that is supposed to entice you into the Second Life world to try to suss out the answer for yourself.
"CSI" creator Anthony E. Zuiker says "CSI"'s virtual world opens for business that night. Viewers will be instructed to go on the internet, log on to the site and create their own avatar. Zuiker's avatar, which he says will be "much handsomer, much thinner" than he really is, will be waiting to greet you.
We think people might not want to be forced into taking that journey just to find out whodunit.
"Television, ma'am, is changing," Zuiker said during a conference call last week. "(We) take chances on other platforms. The quest was to write a great episode in the First Life and then a deeper experience that would have a life span beyond that."
Zuiker says the victim _ meaning in the show and not the luckless viewer who doesn't want to become an avatar _ was like Paris Hilton in her virtual life. So the crack CSI team suits up like an avatar to go into their world. Now you can be part of that crack team.
"Once you enter, there are three different levels of game play," Zuiker says. "This continues through Feb. 6 when the episode concludes (on TV), but we'll continue (the world after the murder is resolved.)"
Zuiker thinks that people will embrace this new CSI Second Life world. The levels include beginner, intermediate and advanced.
Beginners can be hand-held through the experience with a few games. In intermediate, you can try to solve a "Murder by Zuiker" where you can look at evidence and try to match Zuiker's interpretation of how the murder went down. If you can find the hidden clue, you can then get a Second Life URL known as a SLURL.
This, of course, is about the time my mind started checking out.
The gist of the top level is that you get to join the Murder of the Month club, go to the lab, talk to suspects and be a virtual CSI, which is a dramatic interpretation of a real CSI. So I guess it's kind of three-degrees of separation CSI.
"You can be whomever you want, whatever you want in this world," Zuiker says. "The future of television is community. The days of being entertained by one device has changed."
This is bad news for people who just like the tube so they can veg at the end of a long day.
Here's a CBS/ YouTube peek at the episode: