For the first time in Television Critics Association history, the January press tour has been canceled.
The twice-yearly press event, which is held in January and July each year, allows the networks to trot out their new shows to North American TV writers and critics from the New York Times to the Oakland Tribune. Journalists grill stars, writers, producers and executives about their shows. It is a unique event that allows unlimited access and provides fodder for reporters writing about shows that are rolled out through the year.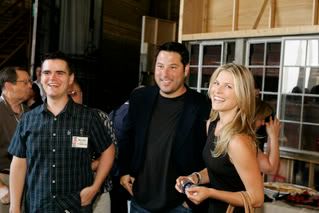 A trip to the "Heroes" set last July during press tour. Pictured are TV Guide's Michael Ausiello and "Heroes" Greg Grunberg and Ali Larter.
As a TCA officer, I can tell you first hand that everything possible was done to preserve the tour, and the information gleaned that is passed on to readers. TCA President Dave Walker of New Orleans Times-Picayune has been tireless in his efforts to negotiate some sort of tour. But it all fell apart today, and news of the cancelation was passed on to the members.
"In light of the recent news concerning negotiations between the Writers Guild of America and the Alliance of Motion Picture and Television Producers, and following my consultation with representatives of all the presenting networks, the hotel will release the hotel rooms and ballroom space the tour would occupy," Dave wrote to the members. "Consider the tour officially canceled whether the strike is settled before January 8 or not.
"From the beginning of this process, the commercial broadcast networks have cited expected budget cutbacks and their presumed inability to present panels for scripted programs as their reasons for not committing to a strike tour. More recently, the networks have also reported that a strike settlement later in December or in early January would offer difficulties in presenting tour sessions, due to logistics issues and hurry-up production schedules."
As Dave told members, until late last month, the TCA had been working on staging a strike tour assembled around cable, PBS, TCA information panels plus possible presentations by broadcast networks, though none had committed to present if a strike was still in place. An abrupt reversal by PBS, who'd been committed for several weeks to present strike or not, scotched that plan.
A July press tour is still planned and is expected to take place this summer in Los Angeles.