Yeah, like you didn't know before.
The tight bond between Saleisha and Tyra came out right in the beginning, when we learned the two knew each other through Tyra's program for girls with low self-esteem. For all the details, check out Jezebel.
This year's "ANTM" has been nothing short of dreadful. If it wasn't for Heather, I would have passed away from sheer boredom and it was all I could do to hang in for the ending. We knew Saleisha was a shoo-in for the final two, if not the winner.
How? Just look at that group picture that is shown at the end of each week. When the girl gets eliminated, they are airbrushed out. I dare anyone to look at that picture and figure out which girl was Jenah and which girl was Chantal.
You just couldn't have identical twins standing there for the final judgment. And talking about judging, I don't think I was the only one who noticed the obvious knock on snippy sour grape girl Jenah. Each of the models took on separate fruity Cover Girl scents. Chantal got lemon, Saleisha got tangerine and Jenah got (sour) grape.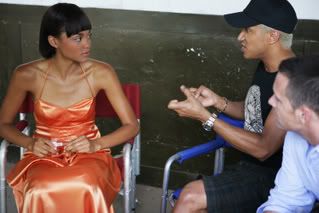 Saleisha let her nerves get the better of her during the filming of the commercial
As snotty as Jenah was this season, sweet Chantal took a sour turn when she put the smack on Jenah in front of the judges. Tyra asked each to say who should win, and who shouldn't. Chantal went all personal, saying that she didn't think Jenah was the kind of person she wanted her little sister to look up to.

Chantal had some skirt issues on the runway
She obviously hit below the bikini line with that one, especially since Jenah revealed that she had to take on the mantle of mom to her own sisters due to an absent mother. Still, even with her tears we couldn't warm to Jenah.
Despite the judges praising Saleisha for her fierce pose near the Great Wall of China, we just don't see high fashion with her. She did fine on the runway, but let's be honest. She doesn't have the willowy body needed for high fashion.
God graced Chantal with a perfect model bod, and while we agree she needs some work, she has the basic building materials. Saleisha will always be a cute little cover girl, which is fine given the sponsor of this show.
Just don't call it "Top Model." Check out each one this week and see who you think had the best picture: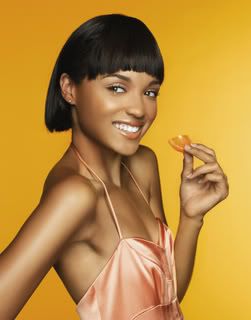 Saleisha puts the lie to the old phrase you can never be too thin. Her dress just hangs on her here.

Chantal looked stunningly stiff in this shot

Jenah has an old-fashioned starlet quality about her
Next cycle sees Twiggy bidding a fond farewell as judge, with Paulina Porizkova coming on in her place. I'd love to see different judges all the way around. Noted fashion photographer Nigel Barker looked like he wanted out all season long, and by the end I hoped his wish would be granted. Love Miss J, but enough with the stupid gimmicks like the growing Afro and last cycle's expanding neck ring. Let's take a break.

Time to get an all-new panel Pictured left to right: J. Alexander, Twiggy, Tyra Banks and a very bored Nigel Barker Photo: Elizabeth Carrillo/The CW ©
Of course, my top pick for expulsion would be Tyra herself. She's gotten worse each year, and this season's talk show cry-fests got out of hand. At the beginning, she had that poor girl who didn't make the cut talk about being abused growing up. Then she makes Jenah crack her tough veneer only to send her on her way too.
Things better heat up next season, or I'm bailing.