You can toss them off as just a small group of foreign correspondents throwing a party, but those guys have a good track record for forecasting Oscar and Emmy nominees.
In the television categories, they've done a good job except for snubbing "Friday Night Lights." And let's face it, besides a solid group of critics and supporters, they aren't the only ones. Fans have tuned out in droves to this spectacular drama, which is all the more reason why the Globes should have honored it.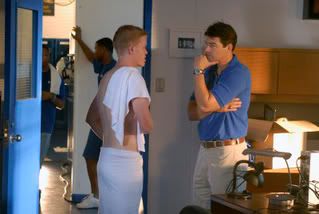 Couldn't you just give one of these guys a nod? (l-r) Jesse Plemons as Landry Clarke, Kyle Chandler as Eric Taylor on "Friday Night Lights."
Another series overlooked by the foreign press was HBO's "The Wire," a gritty drama that captures inner city life like nothing else on television. When the new season was shipped to TV critics recently, everyone from TV Guide's Matt Roush to Philly Daily News critic Ellen Gray spent the weekend poring over it. Since this is a blog, I'll note I did the same. Fantastic.

The final season of "The Wire," with Dominic West and Bobby Brown, begins Jan. 6. photo: Paul Schiraldi
And really people, William Shatner again? Has he been buying rounds of drinks for you people at all the local bars or what?
You could choose from Kyle Chandler or Dominic West, yet you go with the Shat?
Shame, shame.
Best Television Series – Drama
"Big Love" (HBO)
"Damages" (FX Networks)
"Grey's Anatomy" (ABC)
"House" (FOX)
"Mad Men" (AMC)
"The Tudors" (Showtime)
Best Performance By An Actress In A Television Series – Drama
Patricia Arquette – "Medium"
Glenn Close – "Damages"
Minnie Driver – "The Riches"
Edie Falco – "The Sopranos"
Sally Field – "Brothers & Sisters"
Holly Hunter – "Saving Grace"
Kyra Sedgwick – "The Closer"
Best Performance By An Actor In A Television Series – Drama
Michael C. Hall – "Dexter"
Jon Hamm – "Mad Men"
Hugh Laurie – "House"
Jonathan Rhys Meyers – "The Tudors"
Bill Paxton – "Big Love"
Best Television Series – Comedy Or Musical
"30 Rock" (NBC)
"Californication" (Showtime)
"Entourage" (HBO)
"Extras" (HBO)
"Pushing Daisies" (ABC)
Best Performance By An Actress In A Television Series –Comedy Or Musical
Christina Applegate – "Samantha Who?"
America Ferrera – "Ugly Betty"
Tina Fey – "30 Rock"
Anna Friel – "Pushing Daisies"
Mary-Louise Parker – "Weeds"
Best Performance By An Actor In A Television Series – Comedy Or Musical
Alec Baldwin – "30 Rock"
Steve Carell – "The Office"
David Duchovny – "Californication"
Ricky Gervais – "Extras"
Lee Pace – "Pushing Daisies"
Best Mini-Series Or Motion Picture Made For Television
"Bury My Heart At Wounded Knee" (HBO)
"The Company" (TNT)
"Five Days" (HBO)
"Longford" (HBO)
"The State Within" (BBC America)
Best Performance By An Actress In A Mini-Series Or Motion Picture Made For Television
Bryce Dallas Howard – "As You Like It"
Debra Messing – "The Starter Wife"
Queen Latifah – "Life Support"
Sissy Spacek – "Pictures Of Hollis Woods"
Ruth Wilson – "Jane Eyre" (Masterpiece Theatre)
Best Performance By An Actor In A Mini-Series Or Motion Picture Made For Television
Adam Beach – "Bury My Heart At Wounded Knee"
Ernest Borgnine – "A Grandpa For Christmas"
Jim Broadbent – "Longford"
Jason Isaacs – "The State Within"
James Nesbitt – "Jekyll"
Best Performance By An Actress In A Supporting Role In A Series, Mini-Series Or Motion Picture Made For Television
Rose Byrne – "Damages"
Rachel Griffiths – "Brothers & Sisters"
Katherine Heigl – "Grey's Anatomy"
Samantha Morton – "Longford"
Anna Paquin – "Bury My Heart At Wounded – Knee"
Jaime Pressly – "My Name Is Earl"
Best Performance By An Actor In A Supporting Role In A Series, Mini-Series Or Motion Picture Made For Television
Ted Danson – "Damages"
Kevin Dillon – "Entourage"
Jeremy Piven – "Entourage"
Andy Serkis – "Longford"
William Shatner – "Boston Legal"
Donald Sutherland – "Dirty Sexy Money"