There's nothing like a good wallow in big fat vat of rich to make you forget that you can't pay the rent.
At least, that's the thinking behind the most recent batch of rich folk shows tumbling out of Hollywood. Actually, it was last year when we all noticed there were a whole lot of shows about the wealthy making the fall line-up. But while some last-season series such as Big Shots and Cashmere Mafia won't be returning, most have found a spot on the new fall line-up. Dirty, Sexy Money, Lipstick Jungle and Gossip Girl are coming back for a second run after being waylaid by the writer's strike and even more new shows about rotten rich have rushed in.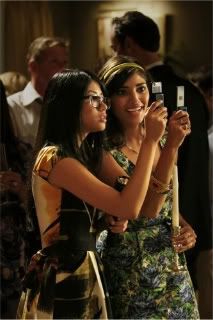 "Gossip Girl" on the CW is just packed with the way-too-rich. Pictured: (l-r) Yin Chang as Nelly Yuki, Amanda Setton as Penelope PHOTO CREDIT: GIOVANNI RUFINO/THE CW

The CW's Privileged has a hard-working would-be journalist playing sista-momma to two spoiled, manipulative Florida teens. The network also has the remake of Beverly Hills 90210 titled simply 90210 for those with short attention spans.
The CW seems to think that the way to a viewer's heart is through watching people richer than you who just can't buy happiness. Both freshman series 90210 and the addictive sophomore series Gossip Girl brought in impressive numbers.
When the financial going get tough, there's nothing better than feeling superior to those with the green – and we're not talking ecology.
Here's look at some rich people we love, or at least love to hate.
10. Simple Life – Ah, the series that brought Paris Hilton into our living rooms. Well, maybe it was the sex tape for some of you, but for most of us it was seeing Paris and former best pal Nicole Richie going from the lap of luxury to the pits of small town America.
9. The Hills – Can you do any top-10 list these days without mentioning the Hills? Think lifestyles of the rich and vapid. Spencer alone could rate a rung on this ratings ladder.
8. Super Sweet 16 – My god, what was that mother thinking when she gave her princess a Lexus convertible the day BEFORE her 15th birthday party, which, you know, totally ruined her birthday. Or how about the rich witch who didn't want her sister in a cute dress because it would upstage the birthday girl? Watching this show makes every wage earner happy that they don't have to deal with these people.
7. The Real Housewives of Orange County – Here's a quote I've never quite forgotten, no matter how much alcohol I've had. When Kara, the daughter of former Playboy Playmate and OC housewife Jeana Keogh says, "We show our love by buying each other things." Actually, I think that says, I didn't care enough to spend any time with you, so I bought you off.
6. Dallas – Nothing said excess like those oil-rich Ewings. J.R. wheeled and dealed his way through life. Sure, he got shot for being such a bastard, but he popped right up again and kept on spreading misery to anyone in his path.
5. Dynasty – Here's what we loved about this series: You could always count on a good old fashioned cat fight that had these perfectly coiffed ladies splashing around in the water like a spring break wet T-shirt contest. But we really loved the mud wrestling.
4. Beverly Hills 90210 – Sweet Brenda and Brandon Walsh got quite a culture shock when they moved with their family from the Midwest to the 90210. We all jumped into the crazy world of spoiled but neglected Hollywood high schoolers. Poor tortured Dylan, come let us make you feel better.
3. Entourage – Vincent Chase might have a healthy dose of self love, but at least he brings his buddies along to share the indulgent, perk-filled lifestyle being an up-and-coming movie star affords him.
2. Arrested Development – Love the Bluths, especially boozy mom Lucille ("Your father says he wants me to go all the way to Fallujah. I thought he meant that sex act that's so popular with your generation."). Although Michael's trying to be better than this bananas bunch, the rest feed just play out the worst in the stereotype of the wealthy as stupid and self-obsessed.
1. Brothers & Sisters – Don't we all wish we could have lively political discussions around the pool while sipping grand California wines? This little slice of rich life lets us all wallow in the excesses of the Walker family filled with beautiful smart people who always seems to come up with some vast amount of money out of thin air whenever those financial storm clouds gather.