So it's bye-bye Mr. American Idol Sligh.
Chris Sligh, the only other guy outside of Sanjaya to bring any kind of non-singing sparkle to the show has been given the hook.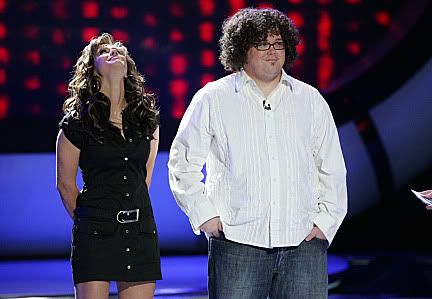 Haley Scarnato (L) shows a sigh of relief after Chris Sligh (R) is eliminated on AMERICAN IDOL Wednesday
Sligh man, why oh why did you try to do No Doubt's "Don't Speak"? It was a song obviously beyond your reach. We'll miss you, and your saucy style.
And yes, we heard you when you loudly whispered to Phil Stacey that he owed you 50 bucks. Apparently, Phil believed he was set to go before you did.
Don't worry Phil. There's always next week.
As for the Sanjaya freight train, or should I say fright train?, it's still going strong. We don't mind if he stays on the show while the bottom and middle rung people are voted off.
Please, just stop the insanity before we get to Melinda, LaKisha, Jordin, Blake and even Chris.
Permalink Comments off